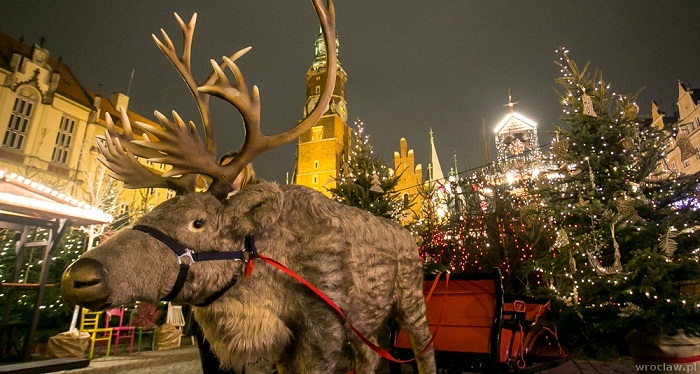 In Wroclaw, we can get caught by the Christmas spirit with the end of November. The traditional Christmas Market is about to spread the charm in the city centre again this year. From 20 November mulled wine, kołacz cake and stands full of perfect gifts will be there to remind us that Christmas is coming soon.

Christmas Market is an element of Wroclaw's tradition - it is impossible to think about Christmas without that event. Every year, it starts in the last week of November and lasts almost until Christmas Eve. This year, from 20 November to 22 December, Rynek will be full of attractions for all foodies, gift hunters and those who love the Christmas atmosphere.

Deliciousness from all over the world
Rynek, from the side of Świdnicka and Oławska Streets, will be full of variety of stands. Domek pod Krasnalem [Dwarf's Hut] is the heart of the Market. This is the place to go if you want to try the unique Wroclaw's mulled wine and special Dwarf's chocolate. It may also become a good excuse to get out of the house on a chilly night - you will learn that it was worth the effort. Especially when you get to 'Smakowity Peron" [Delicious Station]where a variety of Polish cuisine stars will be served. So if you have no idea how oscypek [Highlander's cheese] with cranberries tastes, you must try this specialty from the mountains. Later, you can turn to the novelties on the Market: Hungarian cold meats. For the first time at the event, we will be able to taste those famous products, full of paprika and straight from Hungary. And if all that culinary abundance wasn't enough, you can also try Hungarian goulash and specialties from other parts of the world: Alsatian podpłomyki, flammkuchen, Italian cheese, Turkish baklava, smoked fish, or choose the exotic sushi, and many more.

A gift for everyone
The stands will be full of absolutely everything what can make a good appearance under the Christmas Tree. Jewelry, clothes and unique decorations - it is really a good idea to take a walk along the sales points. Amateurs of handcrafts will find great inspirations and those who dream about a truly special Christmas Tree can buy beautiful decorations. The fireplace hut and fire-stands outside will allow us to get warm when the chilly weather starts to bother us and disturb the gift-hunting. In the heart of the whole Christmas Market, there is a separate zone dedicated to children. Fairytales, games, and workshops with the Dwarfs - many amazing activities for the whole family.