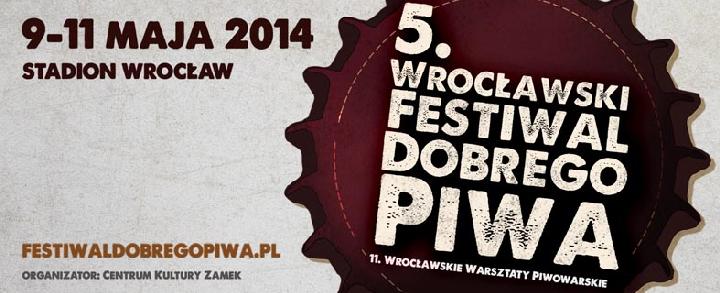 Who doesn't like festive vibes? It's a great opportunity to celebrate every possible occasion, and nothing goes better with it than a beer! Wroclaw gives you an unique chance to get classy and try 350 different beers in unusual atmosphere and with interesting people. I've been visiting Wroclaw's Festival of Good Beer since its beginning, and I'm looking forward to the second weekend of May.



Last year's Festival of Good Beer, as well as earlier ones, was the best invitation to the event this year. Amateurs of this golden drink aren't difficult to wheedle - I know that we will all be there at the second weekend of May. But I would like to convince the persons who claim they don't like beer, that it is too bitter, too sweet, too ale-ly (too lager-y…). Everyone can find something they'll enjoy - even if it is food.


Down the memory lane...
What did you find there last year? Mud - true and quite a lot of it. A considerable amount of rain. But there is nothing a beer - a lot of good beer - couldn't fix. What kind of beer? I'll get down to this later.

Last year's festival was held in the castle in Leśnica, a place of undeniable charm, perfectly suitable for this type of event. I still remember my first impression when I entered the castle - I was so surprised that despite bad weather, the Organizers could not be disappointed with the attendance.

There were families (with children!), people of different ages, of both sexes... If you asked to describe a typical participant, I would not be able to do that. It would be even impossible to define the nationality, as it was a truly international even - I heard people praising beer in many different languages. And as for me - that was the main advantage of the festival.
In a good mud :)
Out of love to beer
There is an urban legend saying that there was a man who drunk the same beer style twice during the festival, but I find it hard to believe. Why? I remember very well how many different beer styles were presented during the previous festivals. And real rarities among them: barrels shipped form the prestigious Danish brewery Mikeller especially for the occasion, beer with chili (delicious), and Belgian, German, Czech, and, of course, Polish beers. It was possible to buy beer of 0.2 l, so I managed to try many of them. Not as many as I wanted... Although the old proverb says that 'store is no sore', I have to say that it is not true: you DO get sore. But does it discourage you? I doubt it.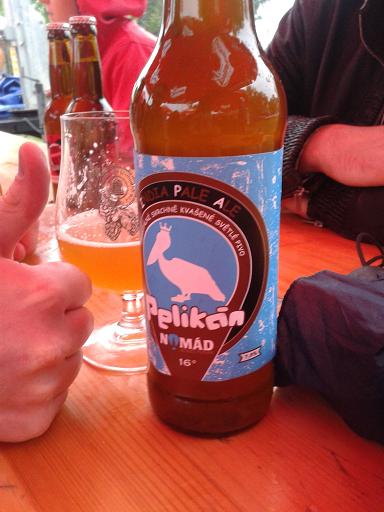 A connoisseur's paradise
The Festival of Good Beer is actually much more than just beer. Yes, first and foremost it is beer, but there is so much more. Beer increases appetite - that's a fact. And it is important not to keep people hungry. There is huge choice of snacks - and I am especially grateful for the possibility of having a beer together with the traditional Czech hermeliny and utopenec - for me that's a perfect match.
I like sport
This year's festival takes place at Wroclaw's City Stadium - the new location chosen carefully and by no coincidence. Beer drinking (and brewing) is undoubtedly one of Polish national sports. Can you imagine more suitable place for the festival than Wroclaw's arena? Where can we get more feeling of a sport rivalry if we tried more beer styles than friends who came with us?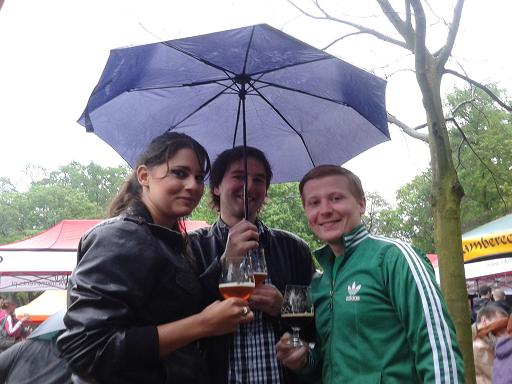 Renting Zone team - beer make us happy :)
Who will try to face the challenge?
The V Festival of Good Beer takes place on May 9-11 this year. I will definitely try to break my last year's record and taste more beer styles. We will be able to choose from 150 draught beers and 200 bottled ones. This range of choice can make you dizzy. Well, life is the art of choice, as they say.


Author: Michal Hajdasz
--------
Were you there last year? Share your experience with us on our forum and join us during 2014's edition!