Is it possible for good beer to become the trademark of Wroclaw and Lower Silesia? Why has our region got the most variegated, global-level quality cuisine? And how did a local feast change into one of the biggest beer festivals in Europe? Elżbieta Lenczyk, head of Centrum Kultury Zamek - the promoter of V Wroclaw Good Beer Festival, answers these questions and a lot more.


For the last few years we have been observing a dynamic economic upturn of the golden drink industry. New local breweries are opened, there are more restaurants and pubs where we can buy beer which is not produced by huge manufacturers, and it definitely has its unique spirit. Robert Włodarek talked to Elżbieta Lenczyk form Centrum Kultury Zamek, the director of Wroclaw Good Beer Festival, about this brewery and culinary phenomenon.


During its four editions, Wroclaw Good Beer Festival grew from the local feast of beer amateurs to an event popular in the whole Poland, and among our Western and Southern neighbors. What does stand behind the phenomenon of this special event?

True - at the beginning we had only few exhibitors, few breweries, but even then it was clear that the festival was very popular among its attendees. There were no crowds at the first festival, but still the attendance was a very positive surprise, both for us and for the exhibitors. Those who came to the event advertised it among their family, friends, and on social media the next year. The rumor spread that Zamek organizes something unique. Finally, it appeared that our location in Leśnica would not contain few dozens of beer and culinary stands, workshop and performance areas, and most of all - the crowd of attendees. That is why we have decided to move closer to the city centre - to the esplanade of Wroclaw's Stadium.

Good beer is the cornerstone of Wroclaw - we can not hide that - and the festival definitely contributed to the economic growth of this industry. Why Wroclaw, not a different city or region?

That is easy to answer. There are many factors which speak for this region. First of all, tradition. Wroclaw and its neighboring areas were the bastion of beer since the Middle Ages. This beverage was produced in Świdnica, at the foot of Ślęża Mountain, by local Cistercians. Beer production was a wonderful means of water preserving and obtaining wonderful taste at the same time. A drop of alcohol was also to be justified by social issues. Mixing cultures: Czech, German, Jewish, and Polish were united mostly with their love to beer. All that resulted in the fact that in XIX and XX century, Breslau was the city with over a dozen of breweries and a large number of restaurants which served beer to their delicious food at all times.

We do not even have to dig through historical documents - it was already done for us by Marek Krajewski in his books about a pre-war detective form Breslau. Few times in each story, Mock used to go to the diner to have a meal accompanied with, as the author describes "beer sweating in the tankard" - a cooled, redolent, delicious beverage; its style depending on the menu.


The period of People's Poland put a stop to this tradition, as it was the time of fighting against all that was local and familiar. It is interesting to observe that the trend is coming back again.

Yes, and it was fostered by the presence of the descendants of former Lvov citizens, and representatives of other Polish regions who came to inhibit the "Reclaimed Territories". There were also the descendants of Greek, Lemkos, Serbian, Gipsy, Ukrainian, Belorussian, German, Armenian, Lithuanian, Karaim, Georgian, Tatar peoples... Lower Silesia has always been a cultural melting pot, which melts slowly creating incredible, unique combinations. In Wroclaw, we can find restaurants which serve Tatar mutton with Silesian dumplings, and makiełki (a traditional Christmas dish in Wielkopolska - Greater Poland) as a dessert, and there is nothing unusual about it for many people.


There are more and more "non-typical beers" connoisseurs in Wroclaw, who attend beer premiers and tastings in pubs, and want to learn more about this beverage. How did that happen?

Beer brewed in a local contract brewery or at home has its unique qualities. And it is produced in many styles. If we take the Lager-type only: it has so many styles we had no idea about. We have the whole range of styles of the Ale-type beer. And people have started to discover this diverse, complex, and fascinating world of beer - wheat beer, porter, bock, barley beer, stout...

They have also started to notice how elaborate the brewing process is, that you have to put your heart in it, enjoy the production, and finally - the consumption. Locality is also appreciated: the fact that products are made in our region or city. The situation is the same as with cheese or bread - we all prefer to buy the one which is healthy, produced without artificial flavor improves, and form the bakery on the corner.


And as for bread and cheese... during the festival we can try good beer, but also taste delicious food. What does these two have in common?

They comprise one whole. Beer and food always go together. And we emphasize this fact since the beginning of the festival's existence. We are the festival of good beer, but it is really all about the good taste, where the beer is equality important as the food. We are rebutting the myth that it is enough to accompany beer with peanuts or chips. That is a trivialization, which is the reason why this beverage is seen as a plebeian drink, especially when confronted with wine, which seems to be more noble in our mind. Beer is also noble and unique, and does not have to be associated with a fat redneck.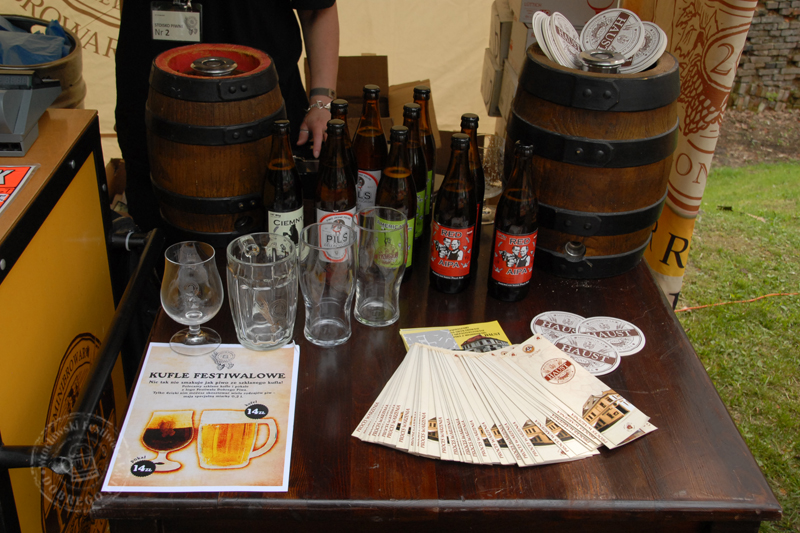 So let me ask a simple question: what does it go well with?
​
Beer's bitter taste makes a great combination with sweet vegetables such as carrot or onion, for example. It also goes well with honey, which is to be found in many traditional bakery wares. And, of course, beer is a perfect addition to meat - and I am not only referring to the BBQ sausage, but, for instance, all types of meat which are corned, macerated, stewed with herbs. And combine it with cheese, and you will experience almost ecstatic sensations.


Do you think it will ever lead to the creation of one dish or one beer style to become the trademark of Wroclaw or Lower Silesia? Just like oscypek in Zakopane?

Maybe we will have one culinary ambassador of our region, but honestly... I would not like it to happen. What we are enjoying now is a complete diversity, which for me is a great advantage. A tourist goes to Zakopane to try oscypek. When he comes here he can try Georgian chaczapuri, Karaim's kibins, Greek roast with vegetables, Bavarian cutlet... all in different combinations and with a different beer style. And what is more, we have many people who like to experiment and create new dishes by combining tradition with modern trends and even new technologies, such as the intriguing molecular cuisine - and there will be quite a lot of it during the festival. To make a long story short - we will not get bored fast with only one dish. And before we can try them all, we will run out of holidays and we will keep coming back here again and again. I think that the unlimited amount of diverse dishes accompanied with the unlimited amount of good beer styles is our signature.


Author: Adrian Krawczyk

------------------
Join international meeting on the best beer festival in Poland! Soon we start a competition - more information here!