If you think that entering a pub and ordering a beer is a piece of cake, you are very wrong. If you believe that beer is just a nice addition to conversation with your friends, and it does not require any knowledge, Zakład Usług Piwnych will change this view.

Wroclaw is the city of beer - each day amateurs of Czech breweries gather 'under the famous mound'. But it is Zakład Usług Piwnych, or ZUP which started Wroclaw's beer tradition. It seems to be just a regular beerhouse: cellar, crude design - just as in a typical bar we see in the movies, but the beer is really special there.

There are 12 drought beer fronts, which pour beer form non-commercial, small breweries every day. In addition to that, the fridge is also full of goodies. But if you are looking for typical Polish beers available in every store or 'regular' pubs (although the prices do not differed much), you will be looking for them in vain.

In spite of the fact that there is a number of similar places in Wroclaw now, ZUP attracts dozens of fans with its sentimental value - this is the first place where beer amateurs appeared three years ago. You can meet real beer freaks or famous brewers there, and you will get a free eer upon the "unfortunate" hitting of an empty cask with your order. There are also people who managed to feed vegetarians with bread with minced lard - this is how powerful this place is.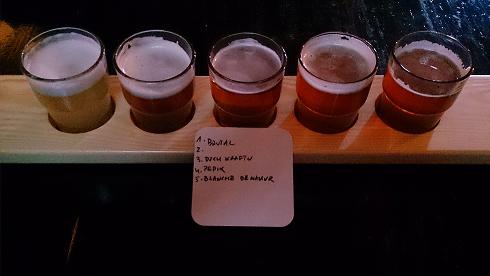 Absolutely unique
It is worth to make a reservation if you plan to go there over the weekend or in the evening to have a nice conversation while drinking cold beer, as usually the pub is full then. But this is the right place if you want to meet your friends, have a chat, drive your social life forward, or just rest after a heavy day or week. The fact that in the afternoon, before the pub gets crowded and when you can get a discount, is the best time to visit ZUP - is even more encouraging.

The selection of beers is large, especially if you do not visit such places often. It is worth to try new styles of beer and choose a different one each time you are there. This is how you learn about the diversity of the beer tastes. You can also order a "deska" (a "board of beer"), meaning 5 different beers, 150 ml each, and test as many styles as possible. I have to admit that I get attached to certain beer styles, and don't really like changes, especially when ZUP serves me my favorite "Rowing Jack", or "Atak Chmielu".
ZUP's calendar:

Monday: a pint of your favorite beer in the price of a smaller one.

Tuesday: students get a beer discount of PLN 2 per beer.

Wednesday and (Saturday sometimes): premiere of a new cast.

Sunday: whisky tasting.

Happy hours every day before 6 p.m.: 10% discount for beer.

Beer of a taste of sausage?

Beer premieres are always key events: new beer styles hit the pub, and the fridge gets full with bottles of 'limited edition' beers. Sometimes the greatest styles appear in Wroclaw in such a small number, that you can only order one beer of this style per person, just to make things fair for everyone. It happened recently with "Baltic Emperor", but luckily, brave bartender protected it form the greed of the clients.

Funny fact: This is how the premiere of "The end of the World" ("Koniec Świata") looked like (Pinta Brewery).


And if you haven't tried it yet, I strongly recommend you to do that, as this is one of the most interesting tastes of beer ever (taste of a sandwich with ham)J. You can have a piece of a similar experience if you try "Jak w dym", the so-called left-out water the frankfurters were prepared in. If only it was possible to mix it with mustard...
Beer savoir vivre?

If it's you first time in Zakład Usług Piwnych, you should learn few simple rules of proper manners. Women have it easy: its enough if they take a look at a beer menu, put a smile of a connoisseur on their face and say the magical: "the same for me, please" (it's always recommended to hit the pub in the company of an experienced beer drinker). Men should behave naturally and do the usual: act as if they know what they are doing (these are those 'experienced beer drinkers').

And remember! If you can't pronounce the name of the beer (try to say "Żytorillo", or "Bździągwa"), just lower the tone of voice with confidence and tell the waiter the chosen number form the board.
Dictionary of an experienced beer drinker

The truth is that the proper description of the taste of beer requires the creation of a separate dictionary, especially if the very smell of it is so delightful that we lack words to define it. That is why if you want to express the greatest admiration to a good beer, you can only use one word: "drinkable". This word is used to define the beer which is easy and enjoyable to drink, but if you use it in the proper environment, you reach an important level of initiation. You enter a hermetic world of beer experts of ZUP.


You can find Zakład Usług Piwnych at 34 Ruska street.

-----
Have you been in ZUP? Discuss about this great pub in
Foreigner's Forum
Author: Katarzyna Bugryn