Are you wondering what to expect from your stay in Wroclaw? Who can help you better than other foreigners who have already been in those shoes? What do they like the most about the city and what do they miss the most after their return home? This article breaks down all these secrets.



The first thing to do before you hop on the plane (or any other mean of transport) and rush to the new city, is a research on sightseeing, history, gastronomy facilities and so on, and so forth of a particular destination.


There is plenty of information about Wroclaw to be found online, but it could not be compared with the emotions visitors have during their stay here. Luckily for you, 5 foreigners from different countries agreed to share their own Wroclaw experience in order to feed your curiosity. So sit comfortably and feel Wroclaw.


Nastya (Ukraine)
"I am living in Wroclaw for 3 years now and a lot of important things happened to me here. There are so many places which are dear to me, which have nice memories behind. One of them is Szczytnicki Park - I always go there to spend some time alone and to ponder. I love the fact that such a huge park is situated in the middle of the city, which makes it so easy to run away from the bustle.

When I leave Wroclaw for some time I miss it a lot. I miss those streets, the view from my window, my friends and my boyfriend, who I've met here. I am one hundred percent sure, that Wroclaw would remain dear to me no matter what, no matter where I will live in the future".
Maria (Germany)
"I love the young atmosphere of Wroclaw the most. The city is full of students from all over the world.
One of my favorite places was the small café in front of the White Stork Synagogue.
I've enjoyed the fact that there are a lot of small unique (not "mainstream") pubs and cafes, which are so different from each other. I miss them a lot right now being back home, and I also miss famous Polish beer with juice".
Nicole (Canada)
"I love the atmosphere of the city – not so small too be boring, but not too big to be overwhelming. Besides the great friendly vibe and picturesque surroundings, I'd have to say that shopping is a great thing to do in Wroclaw. There are so many malls and shopping centers; it's no wonder if you consider all the well-dressed residents of this city.

What I dislike the most is the graffiti that can be seen around the city. Not the artistic graffiti, but what I would call tagging consisting of names/initials. While it's not so visible near the city center, it's sad to see beautiful rustic buildings scribbled with unrecognizable graffiti".
Olesya (Russia)
"My favorite place in Wroclaw is small walking path near the Tumski Bridge. It was so nice to sit on a bench under apple trees and enjoy sunny weather and splendid view on Odra River.


I was an exchange student and now after my return back home I miss all friends that I've met there. We are all living in different countries and I hope that one day we would be able to meet again in Wroclaw".



Shu (China)
"I adore the atmosphere of Christmas in Wroclaw. The Christmas Market with all the fairy lights, decorations, hot wine and huge Christmas tree is magical. I have also seen my first snow here! It was my first real winter. The weather was quite cold though; that wasn't very comfortable for me. However, I must admit that the spirit of Christmas Holidays was worth it".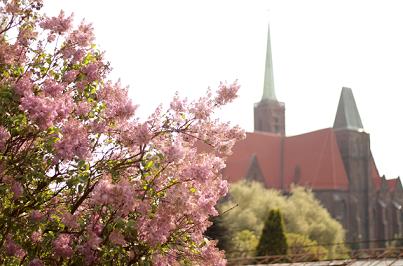 Fot. Kristina Gumyonnova
As for me, my first impression of Wroclaw was the burst of color. The weather during my first day here was perfect and the contrast between the bright sun, the blue sky and the colorful buildings at the Market Square was magical. It reminded me of the stories which my mom used to read to me when I was a little girl, where people were living in fairytale houses and the roads were made of paving stones.

My favorite thing to do in Wroclaw is to wander around the old town, the Market Square and the small streets around it. I can always find something new there: new café, which I haven't visited before; marvelous decorations on some building, which I haven't noticed during my last walk there; new dwarf statuette, which was hidden around the corner.


Wroclaw has so much to offer, everyone should be able to find something unique and appealing here.
What will it be for you?
Author:
Kristina Gumyonnova